WEB DESK: Kuch kuch hota hai, a 1998 fairy tale romantic movie is 17 years old today.
Written and directed by Karan Johar, it starred the popular on-screen pair of Shah Rukh Khan and Kajol in their fourth film together. Rani Mukherjee featured in a supporting role, while Salman Khan had an extended guest appearance.
On its 17th year Shahrukh Khan remembered the cast of the movie he cherishes so much in a tweet.
The director, Karan Johar also tweeted the poster of KKHH,.
Here we share 5 memorable moments from the movie:
I don't like joookes!!!!
Tossing a football in the game of basket ball is not an easy task. But Kajol does it beautifully– and she even beats Shahrukh. Beautiful moments of Rahul and Anjali's friendship will always be remembered by the viewer.
2- The love triangle
The most emotional one: when Rahul (Shahrukh) is stuck between his friendship and his love. Tina (Ranee) blame herself for breaking Anjali's (Kajol) heart.
3- Ab tum un stupid larkion kay peechay bhagna band karo….
 A dejected Anjali drops out of college and leave Rahul. She can not see Rahul and Tina so much in love anymore.
4- Dramatic Saree

That moment when Kajol's sari flies dramatically and catches SRK's attention in the song, 'Ladki Badi Anjaani Hai'. Lost in Kajol's beauty the dashing Shahrukh realizes that he is still hopelessly in love with his university best friend.
5- There's is no music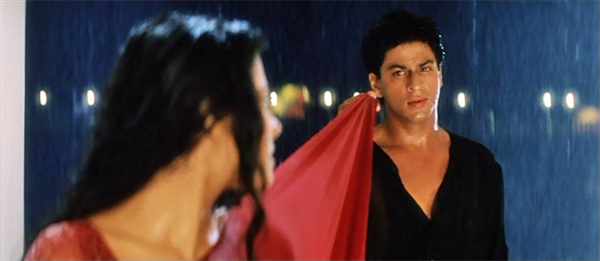 That moment when Rahul returns in Anjali's life, but she realizes that it might be too late. A beautifully picturized melody in the rain also added a charm in the movie.