By Afshan Zahra
When you adapt a literary masterpiece like Charles Dickens' Great Expectations you are bound to make mistakes. Abishek Kapoor's directorial Fitoor failed on many accounts.
The film follows the basic story of Great Expectations very closely. Aditya Roy Kapoor plays Pip as Noor. Katrina Kaif (Firdaus) plays Estella, his love interest. In the Miss Havisham role, we have Tabu as Begum Hazrat (Firdaus mother).
The story plays out in the same sequence as the original one and if you're familiar with Great Expectations, there is nothing new for you here. Just a change of language and scenery and that's it.
Noor is projected as a curious young boy from a lower class family. He comes across Firdaus at the place of his work and is taken aback by her beauty and keeps staring her. His feelings intensify with every passing day and the duo is seen as developing a deep friendship over the course of time.
Then Firdaus is sent abroad all of a sudden for studies and this leaves Noor heartbroken.
The two lose contact over the years and life moves on. Fast forward to the future they meet again after years. Both are grownups now. Noor is an accomplished artist now and Firdaus a modern girl with a degree from London School of Arts.
After meeting her again, Noor discovers that the intensity of his feelings for Firdaus has not reduced and she plays along.
Noor, looks at his ladylove with such intensity, is nervous around her in a cute way, and acts much like a teenager around his crush.
The screen play drags and fails to keep the audience engaged. The chemistry between Aditya and Katrina also seems rather superficial.
The only actor who has been fair with her role is Tabu. She plays the eccentric Begum Hazrat, who was wronged in love and has taken upon herself to ensure menfolk experience the exact heartbreak and pain that she did.
From her facial expressions to her dialogues she has carried off her role quite well. As the movie moves ahead and the reason behind her evil actions opens up, the audience is left in the lurch; whether to sympathize with her or hate her.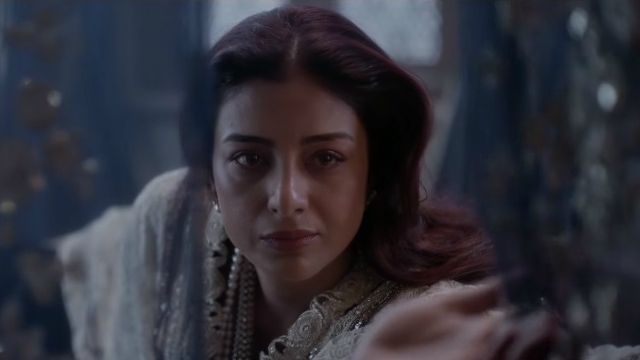 Despite many shortcomings, the film succeeds for its cinematography. It deserves applause for some absolutely brilliant backdrops and visual splendor that could only emerge from what is possibly the most beautiful region, the disputed Indo-Pak territory Kashmir.
Kashmir provides a beautiful canvas on which the story can be painted. The cinematographer has captured Kashmir's gorgeous exquisiteness in all its details — the white snow-covered mountains, red chinar leaves and the grey of winters.
The mesmerizing and soulful slow paced songs managed to make up for the lack of chemistry between the lead actors. Pakistani singer Zeb Bangash's voice also contributed her melodious voice to Fitoor's sound track.
In Fitoor, a weak screen play and superficial love saga hinders a beautiful cinematic journey.
All in all, it is a film that places beauty over substance. I would recommend it for a one time watch and that too on a weekend.