Web Desk: Purity is now become just a word, presently, it is no where to find in an actual manner. Foods are being genetically produced, artificial flavors are being added, animals are injected etc. Even chilies, that you're using in your home may also not safe, it could be adulterated.
Adulterants are mostly added to powdered spices to increase their bulk and also to enhance their colour. Crushed wood or husk can be used to increase the weight of packaged spices or you may also find the use of artificial colors that improve the look and feel of the spices.
Here are 4 ways that help you to catch whether the spices are pure or not.
The water test
Chili powder is mostly adulterated with brick powder, salt powder or talc powder. You can detect it by adding a teaspoon of chili powder in a glass of plain water. If the water change its color, that's mean it is artificially coloured, because pure red chili powder doesn't really dissolve in water. If white residue appeared at the bottom, it will signal the presence of soap stone.
Checking for brick powder
Brick powder is also be added to the red chili powder because of the same color and texture. To test its presence, rub some chili powder at the bottom of a glass. If you feel some kind of grittiness, it warns you the presence of brick powder or sand.
Artificial color test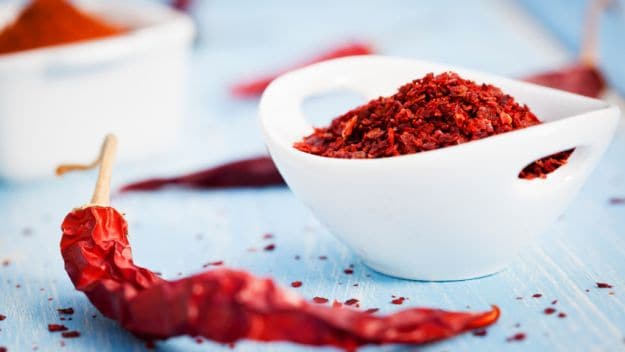 Some time artificial flavours are added to red chilli powder to give it a better color. Just sprinkle some chilli powder over a glass of water. If the color streak, the red chilli could be adulterated.
To detect starch
The role of starch is to add bulk in red chili. Add few drops of tincture Iodine or Iodine solution to the powered spice. If it turned bluish, it shows the presence of starch.
Tip: The best way to have a healthy, safe and flavored red chili powder, is to grind it at home. It will give you real and fresher spice.