Web Desk: Eid-Ul-Fitr 2018 is just round the corner and many of us are still not sure what to wear on this occasion to look more stylish and different. Finding the perfect outfit for yourself in thickly crowded shopping malls or market can be a tricky challenge.
If you are one of the many struggling to find a perfect dress for Eid, then this article may help you to know the fashion trends of this Eid.
Fashion trends keeps expanding and changing according to the weather and this time Eid is coming in extremely warm weather. So your outfit should be light in weight. Try to buy something made up of linen and cotton. Tight and fitted dresses are really not advisable because it will not allow the heat to come out of your body.
Light colour clothes are also a way to remain comfortable. You don't need to pick up bold and dark colour to look glamours. Pick light shades of yellow, blue, silver, nude or any color you like. White, grey, are also perfect for an occasion while sun is out.
Peplum
Peplum frocks with bell bottoms or pants are also in fashion. These frock can make you look trendy and stunning.
Lawn suit
Grab simple and sleek lawn suit of your choice. This comfortable suit will make you enjoy this Eid perfectly. It is specially recommended to housewives who are busy with lots of cooking and dealing with guests.
Pastel outfit
You can pick gorgeous pastel outfit like short stylish shirt with simple traditional embroidery, this minimalistic look will take others breath away.
Gharara Pants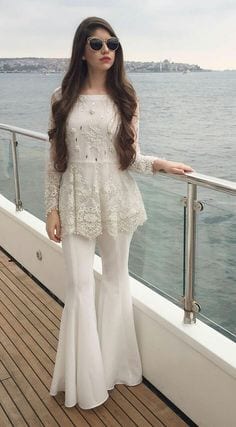 Girls can update their look this year by trying Gharara pants. It is a modern version of the traditional sharara and gives an exceptionally beautiful appearance with peplum tops.
Cut work
The cut work done at the end of shirts, sleeves and trousers are also in. It looks extremely amazing and incredible.
Skirt
If you want to celebrate this Eid with little western touch then you can pick graphic skirts with plain light colored top.  It will draw all the attention to your outfit.
Cute co-ords
You can also become a center of attention by wearing co-ord set that involves comfy trousers and a top in the same pattern. It is one of the comfortable outfit.
Pishwas
You can make pishwas this year with uneven hemline.
Pencil trousers
As amazing as it sounds, pencil trousers with short frocks and peplum tops are the absolute delight. Short frocks with light embroidery and mesmerizing cuts, complemented by a smart pencil trouser sound inspiring.
Bell sleeves
Other than cut work in sleeves, bell sleeves are also in fashion. You can also go for a bell sleeves top, it can be either long or short. You can also try bows and bell sleeves.