Islamabad: Polling of General election 2018 has been begun at 8 in the morning. The total number of registered voters are 10,59,55,409 across the country. 
Total 122 religious and political parties are contesting election this year.
Head of Jamiat-e-Ulmae Islam (F), Maulana Fazl-ur-Rehman reached polling station at 8.25 in the morning and cast his vote.
At 8.30a.m leader of Tehreek-e-Islam, Asad Umar cast his vote in NA-54 Islamabad. He said, "PTI will form his government, it can be shown through survey that next government will be formed by PTI."
Leader of Muttehda Qoumi Movement, Farooq Sattarhar also reached polling station to cast his vote for Karachi's constituency NA-245, at 8.48 a.m.
Yasmeen Rashid, candidate of Pakistan Tehreek-e-Insaf, cast her vote at 8:52 in the morning.
Muslim League (N) president, Shehbaz Sharif has also casted his vote for Lahore constituency NA-130 at 9.10 am while daughters of former president Asif Zardari, Asifa Bhutto and Bakhtawar Bhutto have also casted their vote.
Former Prime Minister, Shahid Khaqan Abbasi cast his vote in Muree at 9:22 am.
Imran Khan cast his vote on Wednesday and urged the people to come out from their homes and exercise their right to vote to elect their representatives.
President of Muslim League-N, Shehbaz Sharif cast his vote at Junior Model School Block-A Model Town Lahore.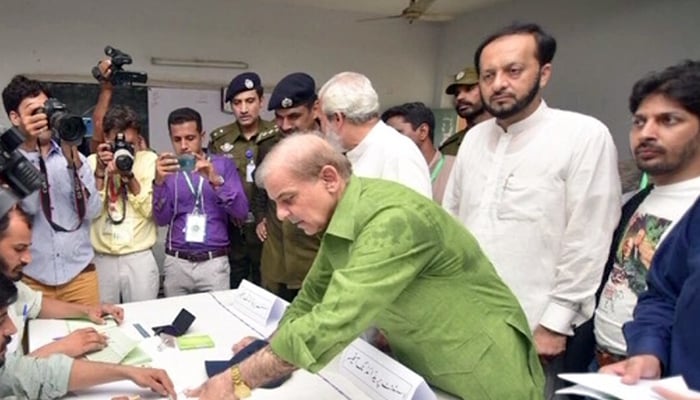 Head of Pakistan Sarzameen Pakistan (PSP) cast his vote for Karachi NA-243 in SM Public School.
Independent candidate, Jibran Nasir cast his vote in constituency NA-247 at polling station 86.
Senior PPP leader, Syed Khursheed Shah cast his vote for Sukhar NA-207 at polling station number 29 in Islamia College.
Faryal Talpur cast her vote at Government Primary School 2, in constituency NA 200 and constituency PS-10 in Naudero.
Asif Zardari casts his vote in Nawabshah
NAWABSHAH: Former President and PPP co-chairman Asif Ali Zardari Wednesday cast his vote at polling station No. 13 set up in LBOD colony.
Election commission officials have allowed only two media persons to cover the event of his vote casting in the polling station.
Peaceful polling process was remained progress due to strict security measures adopted by the Election Commission of Pakistan with the help of Police, Pakistan Army and Rangers.
No untoward incident was reported from any part of the district till the filling of this report.