Web Desk: Veteran actor Nana Patekar has now decided to send a legal notice to Tanishree Dutta after she accused him that he sexually harassed her on the set of a film Horn Ok Please in 2008 reported Deccanchornicle.
Nana Patekar's lawyer Rajendra Shikodkar considered her allegation false and untrue.
He said, "We are in process of sending legal notice to Tanushree Dutta as she has made false allegations and has spoken untruth. We will send the notice later today which will be basically a notice seeking apology for her statements."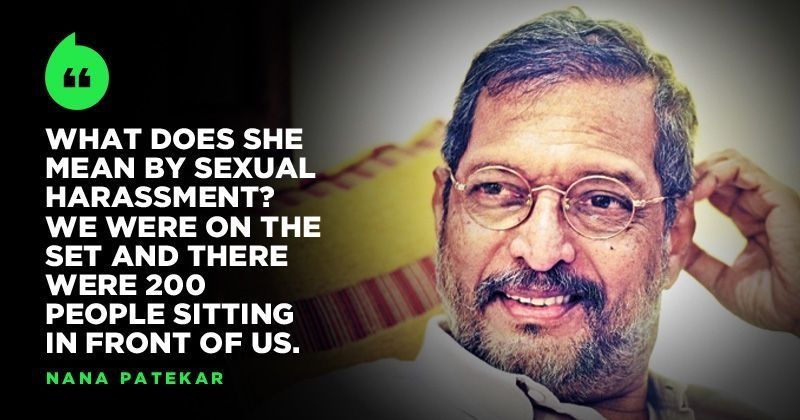 She alleged that she was harassed by Patekar while shooting for a special dance number in the movie. The former beauty queen also accused dance choreographer Ganesh Acharya of teaming up against her.
"He was being aggressive and was pushing me around. I complained about him, but it was not heard. They (film crew) were forcing me to do an intimate step. My contract stated that it was a solo dance sequence, and it was not supposed to be a duet. It was a way to manipulate me. This was the whole harassment situation going on," Dutta said.
The 'Aashiq Banaya Aapne' actor further alleged that she and her family were attacked after she refused to perform the intimate step.
Many Bollywood celebrities like Sonam Kapoor, Priyanka Chopra, Farhan Akhtar, Twinkle Khanna and Swara  Bharkar stand with Tanushree Dutta.
Tanushree sister Ishita Dutta said, "If you see the footages; I still remember, I was at home and I saw the video; people jumping on the car, banging the glass, the horrified and terrified face of my sister and family. I was so scared because I wasn't there with them. I didn't know what to do. That memory will never go away."