Web Desk: Bollywood's biggest project and one of the most awaited movies of this year is finally out. It is the first movie that star both Amitabh Bachchan and Aamir Khan together. but sadly,  according to critics, the movie takes a lot to make pirates boring.
#OneWordReview…#ThugsOfHindostan: DISAPPOINTING.
Rating: ⭐️⭐️
All that glitters is NOT gold… Holds true for #TOH… Some engrossing moments in the first hour, that's about it… Formula-ridden plot, screenplay of convenience, shoddy direction are the main culprits… 👎👎👎

— taran adarsh (@taran_adarsh) November 8, 2018
In the movie, Bachchan plays the role of a rebel, while Khan is a two-faced rogue on the company payroll sent to infiltrate Bachchan's  squad and bring him down.
What you get instead is nothing but a massive cherry-picking enterprise from big entertainers of the past, many of them YRF's own. Not only do you end up picking up on past films, scenes and references, you are left struggling with staleness and boredom.
Much actions of the movie are in slow-motion which makes the movie three hours long. It is a film hardly ever larger, but certainly slower than life.
Firangi is considered as one of the Khan's most unremarkable characters, a rogue free of magic or cleverness. The film priorities size over smarts, set pieces over script. People are considering it a complete disaster for Aamir Khan.
Fatima Sana Sheikh plays a princess who doesn't have a line for the first hour. She is a warrior who repeatedly needs to be rescued.
The spectre of old Bollywood looms large over Thugs Of Hindostan. An old man sings about imli, Sharat Saxena tries to look valiant, Ila Arun plays a medicine woman, while Mohammad Zeeshan Ayub, who plays Khan's man Friday, is literally named Saturday. And then — by the beloved beard of Bob Christo — there are the redcoats, hamming it up. The British villain is naturally given the easily despised name Clive, and he speaks to his fellow Englishman in Hindi, even when the two are alone and he's saying he'll never understand Indians.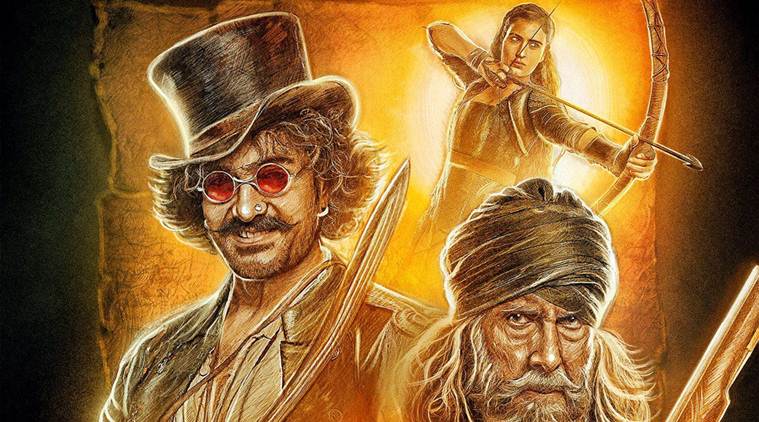 Thugs of Hindostan, starring Aamir Khan, Amitabh Bachchan, Katrina Kaif, Fatima Sana Shaikh and Lloyd Owen among others, hit 7000 screens worldwide.