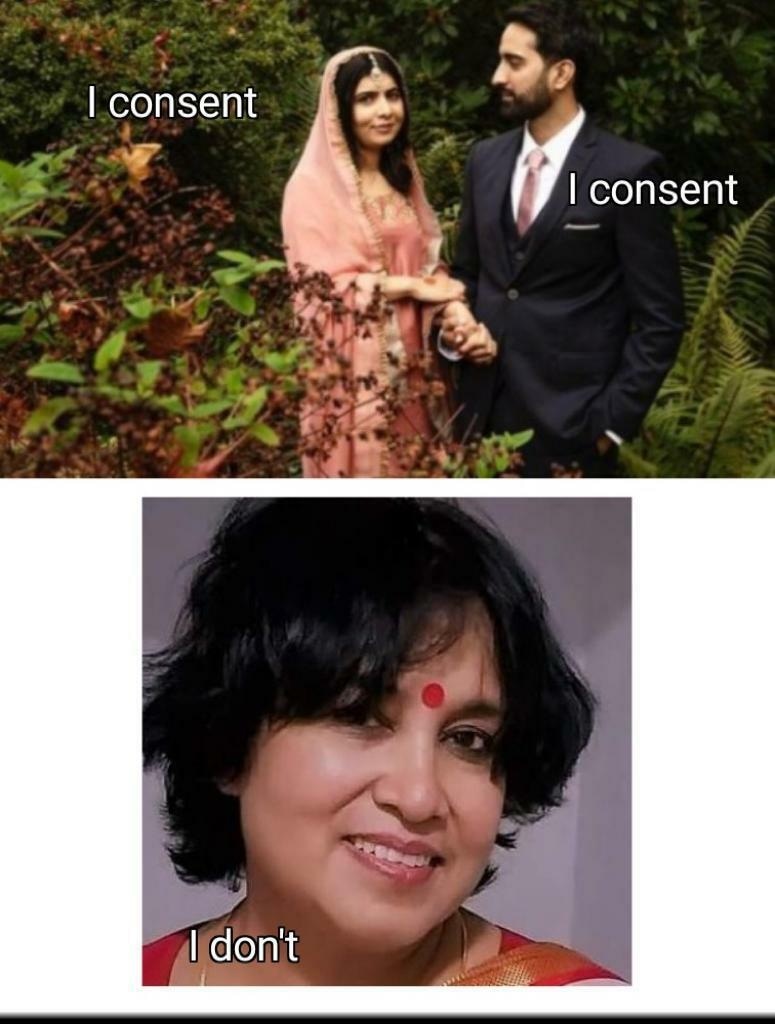 Taslima Nasreen, 59, a Bangladeshi-Swedish writer, took to Twitter on Wednesday to express her "shock" that Malala Yousafzai married a Pakistani man.
"I thought she went to Oxford university for study, she would fall in love with a handsome progressive English man at Oxford and then think of marrying not before the age of 30. But.." she tweeted.
According to her bio, Nasreen is a secular humanist, a feminist and a human rights defender. She has written books on women's oppression and criticism of religion. Some of her books are banned in Bangladesh. Blacklisted and exiled from the Bengal region, Nasreen now lives in New Delhi.
In another tweet she said that "misogynist talibans are happy" because Malala married a Muslim, and a Pakistani that too at only the age of 24.
Referring to the Nobel laureate's interview with Vogue where she said that she doesn't understand why people have to get married, Nasreen tweeted that Malala was "more matured" back then.
Malala had announced on Tuesday that she has married Asser Malik, a general manager at the Pakistan Cricket Board, in a small nikkah ceremony in Birmingham.
Nasreen in another tweet on Thursday reiterated that Malala should have married a white man instead of a Pakistani.
The writer's tweets made people question her progressive thinking and her being a feminist.
Some Twitter users accused Nasreen of trying to be Malala's phuppo.
Others said that she's suffering from a bad case of colonial hangover.
Not everyone was against Nasreen's comments, a few people agreed with her.
This is not the first time Nasreen's tweets have landed her in trouble. In April, she posted a tweet about English cricketer Moeen Ali that said, "If Moeen Ali were not stuck with cricket, he would have gone to Syria to join ISIS." The Bangladeshi writer garnered great criticism for her comments and views.
The tweet has since been deleted.