The year 2021 proved to be successful for the country in the sports arena despite an eleventh-hour cancellation by the New Zealand cricket team and yet another small contingent at the Olympic Games in Tokyo that was delayed due to the pandemic.
Here's a look back at our performance in sports and games including those that failed to make it to the headlines.
Pakistan wins 'memory championship'
Before we start celebrating the milestones of 2021, lets quickly mention Emma Alam, who won the global finals of the World Memory Championships in December 2020, beating more than 300 competitors from all over the world.
Emma and Syeda Kisa Zehra from team Pakistan also broke multiple world records in the year's championship.
South Africa arrives in Pakistan for historic tour
As part of the Pakistan Cricket Board's efforts, South Africa toured Pakistan in January to play two Tests and three T20Is. The Proteas were visiting Pakistan after 14 long years, having last toured the country in 2007.
The hosts claimed their first series win against the Souht Africans in 17 years, with medium-pacer Hassan Ali taking his maiden 10-wicket haul.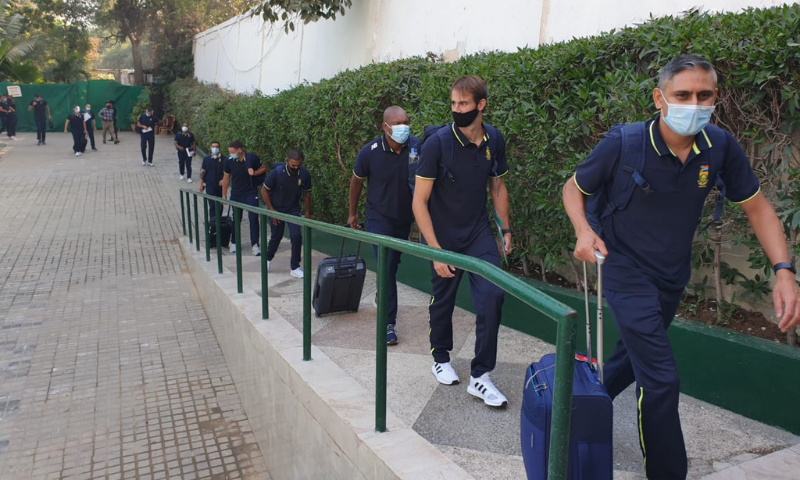 Mountains give us heroes
On February 19, renowned mountaineer Muhammad Ali Sadpara was officially declared dead after the search mission was called off.
Sadpara was one of the three climbers – including Iceland's John Snorri Sigurjónsson and Chile's Juan Pablo Mohr Prietowho– who went missing after starting an unprecedented winter K2 expedition without supplemental oxygen on February 5.
However, there was another hero taking over the mountaineering mantle in the form of 19-year-old Shehroze Kashif. The teenager became the youngest Pakistani to scale Mount Everest in May. Later in July, he also became the youngest mountaineer to reach the K2 summit.
PSL: Covid punctures bio-secure bubble, Sultans win maiden title
The Pakistan Super League was not immune to the Covid-19 pandemic, as some players were reported to have contracted the coronavirus that prompted the organisers to delay the tournament for a few months. The "bio-secure bubble", termed to be a safe zone for players in cricket tournaments popped when teams broke the rules and reported cases.
But when the tournament resumed in Abu Dhabi, Muhammad Rizwan-led Multan Sultans won their maiden PSL title with match-winning performances from middle-order batter Sohaib Maqsood and Rilee Rossouw.
Olympians give us hope
It came out of the blue at Tokyo Olympics 2020. Weightlifter TalhaTalib and javelin thrower Arshad Nadeem gave us hopes of landing medals at the marquee sports event.
Despite failing to make it to the podium, the two Olympians recorded their best performance at their respective events, earning widespread praise.
New Zealand call off series at eleventh-hour
After hosting South Africa, Pakistan was all set to play against New Zealand in front of their home crowd but fans hopes were dashed by the Kiwis eleventh-hour decision to call of the tour citing "security threats". This decision also prompted England to postpone their arrival in Pakistan for another series.
The decision was heavily criticised by fans as well as cricket experts.
But in December, the cricket boards of both countries confirmed that New Zealand would tour Pakistan twice next season.
Misbah, Waqar departure before T20 World Cup
Head coach Misbahul Haq and bowling coach Waqar Younis resigned from their positions in September just a little over a month before the T20 World Cup. The duo had been under scrutiny after a string of poor results.
Misbah had cited bio-secure bubbles as the reason behind his decision to quit. Waqar Younis followed suit, stating that after Misbah's decision, his was a straightforward one as he and Misbah had taken on the two roles together.
Pakistan end India jinx at World Cup
As they say, expect the unexpected but no one in Pakistan expected the 'picture perfect' that was the outcome of their first match of the T20 World Cup in the UAE.
On October 24, Pakistan took on arch-rivals India. Keep in mind that Pakistan has never beaten India at any world cup match - be it ODIs or T20.
But at the Dubai stadium, hot-favourites India were given a thrashing. First, Pakistan skittled out India for a below par score thanks to a fine bowling display led by Shaheen Shah Afridi.
Captain Babar Azam and Muhammad Rizwan then made short work of the chase, wtih Pakistan cantering to victory with 13 deliveries and all 10 wickets intact.
The match also showed that despite the intense rivalry, the players of the two teams enjoyed a good rapport as exhibited by Kohli having a hand on Babar Azam's shoulder as they stepped out for the toss. Later, after the defeat, Kohli was also pictured giving a congratulatory embrace to Rizwan.
Boxers knockout punch
In December, Pakistani boxer Muhammad Waseem topped the World Boxing Association's flyweight division list for the first time in four years. Nicknamed alled 'Falcon' for his swift hands, Waseem's ranking improved after he beat Colombia's Robert Barrera in Dubai in November and won the WBA flyweight title eliminator fight.
Moreover, boxer Asif Hazara won the Asian Boxing Federation title after beating his Ugandan opponent in Dubai. Another boxer from Gilgit-Baltistan Usman Wazir won the title of Middle East champion by defeating his Tanzanian rival.
Haider Ali makes history
Athlete Haider Ali made us proud by becoming the first Pakistani to win a gold medal in the discus throw competition at the Tokyo 2020 Paralympics Games. Ali accomplished a 55.26-metre throw — almost 3m longer than Ukraine'sMykolaZhabnyak who hit the 52.43m mark to come in second place.
Wrestler Inam Butt muscle flex
Wrestler Inam Butt kept the country's flag flying by winning a gold medal at the World Beach Wrestling Series in Rome, Italy on September 4. It had happened just a day after Haider Ali won the gold medal at the Paralympics.
Butt, who had contested in the 90kgs category, beat his Ukrainian opponent in the final. He clinched the coveted medal by a score of 3-0.