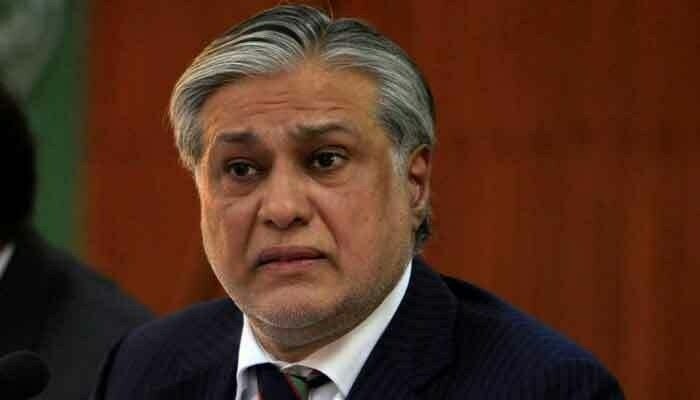 Pakistan Muslim League-Nawaz (PML-N) leader and former finance minister Ishaq Dar has written a letter to Senate Chairman Sadiq Sanjrani seeking his swearing in as a Senator.
A copy of the letter written by Ishaq Dar to the Chairman Senate was also sent to the Election Commission.
In his letter to Sanjrani, Dar said that the legal dispute of challenging his election as Senator on a Technocrat seat of the Senate in the elections held on March 3, 2018 has been resolved, adding that the Supreme Court had rejected the civil appeal on December 21, 2021.
The letter also stated that the Election Commission had withdrawn the notification of suspension of his election to the Senate seat on January 10, 2022. "I am ready to take oath as an elected senator after the legal hurdles have been removed but due to being treated in UK." Dar wrote.
He said that he was currently unable to attend in person. "It is therefore requested that arrangements may please be made to enable me to take the required oath, virtually, through any electronic mode as you may deem convenient," Dar stated.
He wrote that the mechanism of taking oath through video link is already in use in the Supreme Court.
In this regard, the former Finance Minister in his letter to the Chairman Senate has also included the reference of sub-article 2 of Article 255 of the Constitution of Islamic Republic of Pakistan, 1973 according to which the Chairman Senate can appoint a person to take oath from an elected member.
"High Commissioner of Pakistan in London, United Kingdom, or any other person in the High Commission of Pakistan, London may be nominated to administer my oath in London."
Along with the letter, Ishaq Dar has also sent the latest medical report of his doctor in London.
PML-N leader has sent his letter and medical report to Chairman Senate and Election Commission by email.
Last year Dar's nomination to the Senate was challenged in the Lahore High Court (LHC) and the petition was dismissed by a learned Division Bench of the LHC vide its judgment dated March 02, 2018.
This judgment was then changed in the Supreme Court of Pakistan. The apex Court suspended the Notification of Dar's election as Senator through its order dated May 08, 2018.
The said Civil Appeal had been dismissed by the Supreme Court through its order dated December 21, 2021.