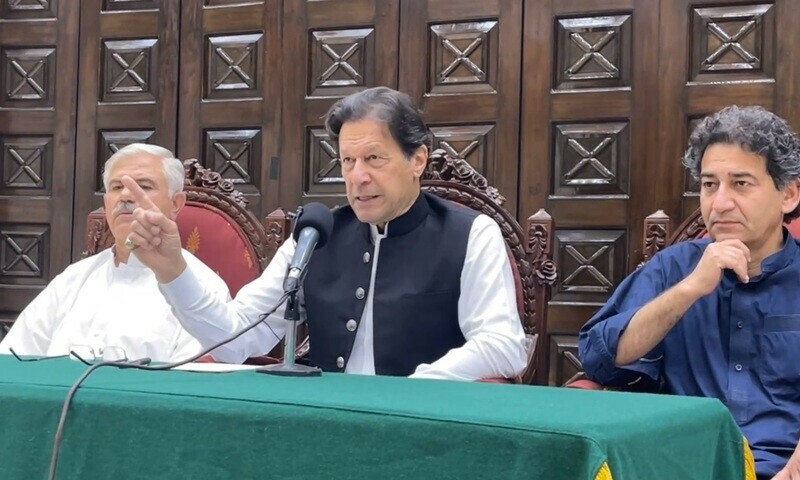 **PTI Chairman Imran Khan said that his party had not made a deal with the government while vowing to return to the streets unless his demand for date of fresh elections and dissolution of assemblies isn't announced.
Addressing a press conference in Peshawar, the PTI chief said that he called off the Islamabad protest to avoid bloodshed. "(PM) Shehbaz Sharif and (Interior Minister) Rana Sanaullah are followers of Yazid as only such people can attack women and children as it happened at the protests in Lahore and Karachi."
"They attacked women and children in Lahore and Karachi," said the PTI chief. "They are the followers o Yazid," he continued while referring to the tragic incident from Islam's history.
"What kind of police does this to its own people?"
Imran said that PTI workers who had gathered for a peaceful protest at Karachi's Numais and Lahore's Liberty Chowk where they were attacked with wanton shelling.
He lauded the PTI workers for continuing with their protest despite the police's 'highandedness' and assault on families, including women and children.
"People kept returning. Women stayed standing despite shells falling everywhere," he said.
By the time i got there, I didn't sit because i decided to give the government six days to prevent violence, he added.
Imran said that such a situation wouldn't have arisen if the PML-N leadership had been prosecuted for the Model Town incident of 2014.
Ended protest to save lives
He said that he decided not to turn the Islamabad long march into a sit-in because he was afraid that the state would resort to shedding innocent blood.
"I sat for more than 100 days," he said referring to his 126-day protest in 20114. "I could have waited till they surrendered but I saw where things were going."
He cited attacks on PTI leaders including Hammad Azhar. "Omar Ayub was beaten. They didn't even respect a lawmaker."
He said the police had been instructed to use force against PTI protesters. "They are creating hatred for the police."
"I repeat: these people are the followers of Yazid," he said about the PML-N leadership.
'No deal with imported government'
The PTI chief dispelled the notion that the sit-in was called off following a deal.
"There has been no deal with the establishment," he said. "I just thought institutions and people will hate each other and it will harm our country."
He said that the PTI would not negotiate with the 'improrted government' while pointing out that the six-day deadline stands.
"If they do not announce an election date clearly and dissolve assembelies, we are ready to come out."
Judicial intervention
On May 25, the top court ordered the government to allow the PTI to go ahead with its march, albeit at a different location, while instructing authorities in the federal capital to remove roadblocks.
"We thought after the court orders things would be ok but that didn't happen," said Imran as authorities failed to remove containers blocking entry and exit points to the capital.
"They weren't allowing us permiossion to enter through the Srinagar Highway. They stopped us at so many places which we thought wouldn't happen following the court's order."
I am asking the judiciary whether we will be given the chance to peacefully protest, he said.
"If we cannot protest peacefully, where will we go? I have asked CJP to clarify his stance."
He said that the whole counry will find out in the next six days whether the the courts protect the right to peacefully protest or not.
"Everyone should now know who is doing zulm (cruelty) and who stands for true freedom," he said.
'Petrol Bomb'
The PTI chief assailed government for caving in to the IMF and increase petrol prices by Rs30 per litre.
He said that the PTI-led government had decided against increasing fuel prices despite international pressure in order to reduce the burden on the people. He added that the deficit due to the fuel subsidy was offset through collection of 'record high' taxes.
"I have come to the conclusion that the foreign governments don't want us to stand on our own feet."
He said the incumbent government had destroyed the country and its economy in six weeks. "This government wants to turn us into Sri Lanka."
'Foreign conspiracy'
On the alleged foreign conspiracy that Imran contends led to the vote of no confidence and his ensuing ouster, he said that US official Donald Lu had communicated his country's displeasure to Pakistan's envoy in Washington.
Imran said that following his visit to Russia, the Pakistani diplomat was warned that unless Imran Khan was removed, there would be problems for Pakistan.
"I went to Russia following consensus including approval from the army," he said adding that it was to get a better deal for Pakistan on various items.
"India gets 30% discount on oil purchased from Russia. We could have done something similar."
He said he went to Russia in order to get that discount and transfer the benefits of the discount to the people just like India is doing.
"We couldn't do it because we have been reduced to slaves."
He said Pakistan should have an independent foreign policy so that decisions could be taken in the national interest. "We have 50 million people living below the povety line. A wave of inflation can push many others there."
Electoral reforms
Following the government's decision to make reverse the electoral amendments made during the PTI-government's tenure, he said that he did not support the decision to deny overseas Pakistanis the right ot vote. "This is against the fundamental right of overseas Pakistani and we will challenge the decision."
The Senate passed the bill earlier today, a day after it sailed throug the National Assembly.
"Overseas Pakistanis send a lot of money. How can you deprive them of their right?"
He also lashed out at the government for barring the use of electronic voting machines in the next general election. "Rigging happens after the casting of votes and before the count. EVMs are only being opposed so that bogus votes can be added to the count."