The minister says overseas Pakistanis can bring gifts to their friends and relatives without any restrictions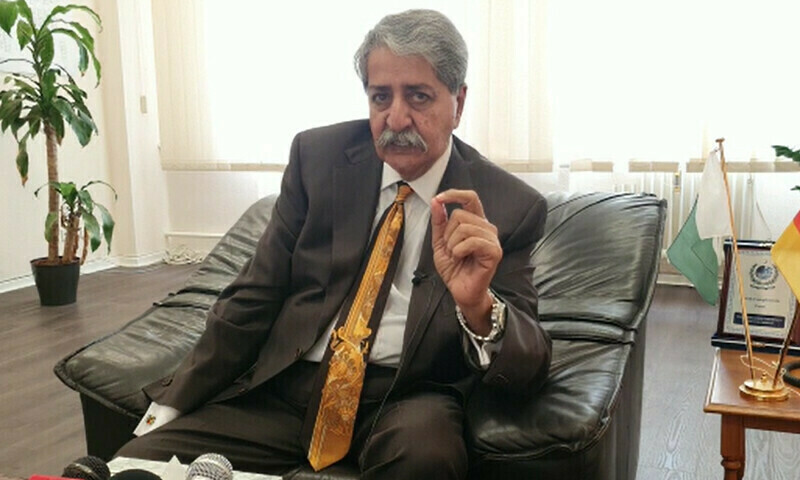 Ashad Moin
BERLIN: Federal Minister for Commerce and Investment Syed Naveed Qamar has said that the government has banned foreign goods for two months but overseas Pakistanis can bring some consumer goods from abroad to Pakistan.
Talking to Pakistani media in Berlin after meeting German Minister of State for Foreign Affairs Dr. Tobias Lindner at the German Foreign Office, Qamar said that the ban was imposed on luxury items for only two months. "Of course, overseas Pakistanis can bring whatever gifts they want for their friends and relatives without any restrictions," the minister said.
Qamar is on an official visit to Berlin as a part of his European Union (EU) Outreach mission. He visited the German Federal Foreign Office on Friday, where he met the German Minister of State and Foreign Affairs.
"We get duty on things that come here from Pakistan at lower rates due to which our exports increase," he added.
Replying to a question regarding foreign investment in the country, he said that it was unfortunate that Pakistan was the focus of attention for the foreign countries when some negative activities and incidents took place.
Referring to the recent political crisis in the country the minister said that the ouster of the previous government was a constitutional process.
Regarding the recent passage of the electoral reform bill, the minister said that the bill did not deprive Pakistanis living abroad of their right to vote. "Constitution of Pakistan gives the right to vote to all Pakistanis living abroad."
Earlier in the day, the minister held a meeting with the German Minister of State and Foreign Affairs during which the German minister hoped that the visit would further strengthen and diversify the bilateral relations, especially in the trade and investment area between Pakistan and Germany.
Qamar thanked Germany for its continued support to Pakistan for the ongoing GSP Plus scheme and highlighted that GSP Plus had played an important role in the expansion of bilateral trade.