Frere Hall was constructed during the British colonisation of the subcontinent, in 1865. The majestic building was to serve as the city's town hall, mostly for the elite. Even though a representation of a time when the people of Sindh were not entirely free, the building and its sprawling gardens are now synonymous with movements of resistance, such as the Aurat March.
Marc Auge, an anthropologist, coined the phrase non-place for the homogeneity of urban spaces. The Frere Hall is quite the opposite, a place if you will, rich with layers of history and folklore. It houses Sadequain's mural and the Liaquat National Library. It breaks the monotony of the concrete jungle that surrounds it but more than that it welcomes all.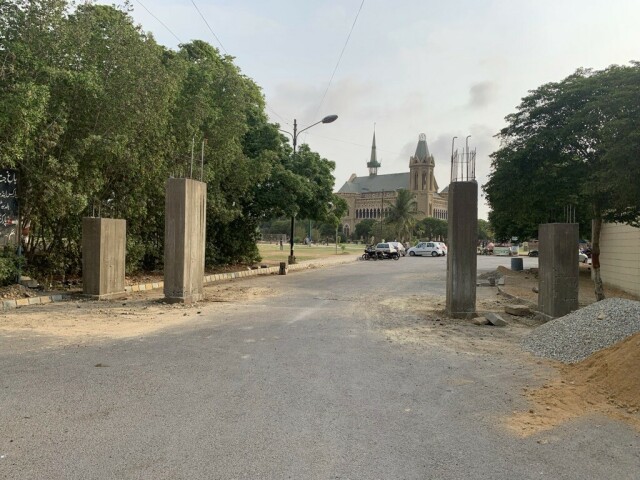 Its low grill fence, also constructed during the British era, does not give the same foreboding look like other buildings in the vicinity. The buildings in the area were made around the same time but they are guarded with tall grill walls and doors. Passing by, it is only the gardens of the Frere Hall that call out to you, to take a moment, relax and feel the grass beneath your feet.
People from all walks of life can be seen walking about in the gardens, enjoying the simple pleasures of life like food from a vendor's stall, exercising or just enjoying a picnic with their families.
In 2019, then Karachi mayor Waseem Akhtar formed a public-private partnership with the 'Guardians Trust'. This self-elected body of architects and citizens proposed a revamp of the Frere Hall complete with cafes, underground parking and permanent fencing around the park. The proposed changes unsettled many citizens as well as heritage activists and organisations.
As these organisations banded together and approached Karachi Administrator Murtaza Wahab, he halted the work in 2020. This year, the work on cordoning off the historic building has started again. The proposed permanent gateways will control who can access the public space, while also visually obstructing the views of the heritage building.
A letter of concern in this regard has been sent to all relevant government departments and stakeholders.
"This park is the only surviving non-gated green island of Karachi," wrote concerned citizens of civil society. "Any future proposals for the space must consider who exactly these places are being protected from, and for whose benefit."
"Today, neo-liberal decisions of fencing and gating as an act of protecting public spaces needs debate with the public."
It is interesting to note, for any construction to happen on heritage sites, a no-objection certificate has to be obtained from the Technical Advisory Committee on Heritage, one that the Guardians Trust do not possess.