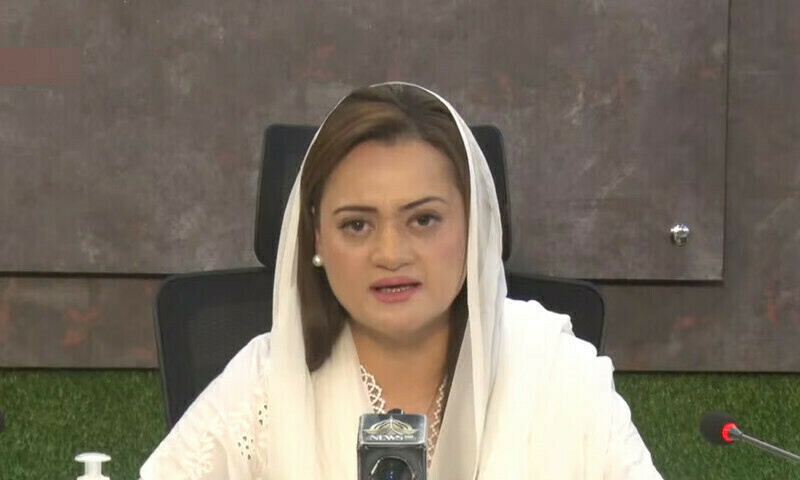 Minister for Information Marriyum Aurangzeb has accused Imran Khan of using state institutions, including the National Accountability Bureau, the Federal Investigation Agency, and the Anti-Narcotics Force, to arm-twist political opponents.
"NAB-Niazi nexus had filed the fake corruption cases against political rivals," the information minister said while addressing a press conference in Islamabad on Thursday.
During his four years in power, Imran Khan went down the path of political vendetta by having fake corruption cases filed against his rivals, she said.
"When the Supreme Court and the accountability courts said that there are no evidences of corruption against Saad Rafique, Shehbaz Sharif….why didn't he [Imran Khan] challenge the verdicts in the Supreme Court," she said. She maintained that it was because Imran knew the cases were fabrications.
Aurangzeb said that Imran Khan, while misusing his powers, even replaced a judge during the hearing of the bail petition of PML-N leader and Interior Minister Rana Sanaullah.
She cited a Supreme Court observation that NAB was being used for political engineering and violating human rights.
Aurangzeb alleged that the Assets Recovery Unit, of which Shehzad Akbar was head, was used to amass wealth during PTI's tenure.
She said that all of the institutions were working under Imran Khan but no corruption charges against any of the PML-N leaders could be proved.
Aurangzeb slammed Imran Khan for his claims of a foreign conspiracy against his government. "Imran Khan says he received the cypher on March 8. Why then did he not form an inquiry commission against this so-called foreign conspiracy while he was in power."
Responding to PTI Chairman Imran Khan's announcement to challenge Lahore High Court's decision about Punjab Chief Minister Hamza Shehbaz Sharif's election in the Supreme Court, Marriyum Aurangzeb said the PTI Chief is in the habit of denying facts.
"Imran Khan, through his lies, wants to spread uncertainty, chaos and instability in the country."
She said under Article 130 section 4 of the constitution, Hamza Shehbaz Sharif is the chief minister of Punjab in continuation of previous election.
She said all decisions to be taken by Hamza Shehbaz Sharif as the chief minister of the province are protected by the law.