In an Instagram anonymous "Ask me" session, Ayesha Fazli recently opened up again about her stance on the harassment accusations leveled against her husband, Ali Zafar.
She had previously spoken in a 2019 interview by ARY about the case, admitting that the most difficult part was handling her son.
"When friends ask him about the whole ordeal in school," she said in the interview, "things become really difficult and painful for the family."
Fazli emphasized that she believed her husband was innocent.
An anonymous user asked Ali Zafar's wife, "Do you really believe Ali is innocent in the harassment case?"
The user said her answer was important as there was no better judge of a man than his wife.
"Of course, I was there when the blackmailing started and saw how the entire thing played out," Fazli responded. "There is a lot that we uncovered."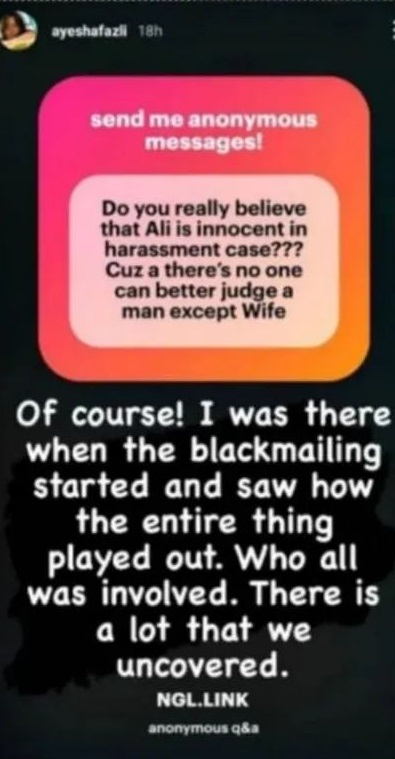 The Ali Zafar vs Meesha Shafi case hit the headlines becoming the biggest #MeToo case in the Pakistani film and music industry.
In April 2018, Shafi accused Zafar of sexual harassment on social media. Zafar responded on the same platform, vowing to take the case to court.
Shafi's allegations against the actor were reviewed by the Supreme Court but it rejected the appeal on "technical grounds", saying that the case did not fall under workplace harassment laws as Shafi was self-employed.
In 2021, the decision was reviewed by the Lahore High Court, which accepted the appeal and adjourned the case for an indefinite period of time.
Simultaneously, Ali Zafar also filed a defamation lawsuit against the singer, who was summoned for cross-examination in 2022.
The Lahore High Court also allowed Shafi to file a defamation case against Zafar this year.
The results from court proceedings have not yet been revealed.
With developments in the case, Fazli became stronger in her stance and after three years, once again reinstated that she believed her husband was innocent and that they were a happy family.
Other answers from the "Ask me" session focused on how the couple met and how Fazli dealt with being married to a celebrity.