Geologists struggle to explain the perfect central fissure
The Al Naslaa rock formation, located in Saudi Arabia, possesses the most bizarre geological features. The uniform vertical split in its middle has remained a huge mystery for scientists, while its unstable formation seems to defy gravity.
The Al-Naslaa rock formation is made up of high-density sedimentary rock. It consists of two 20ft high boulders, both of which rest atop a thin pedestal.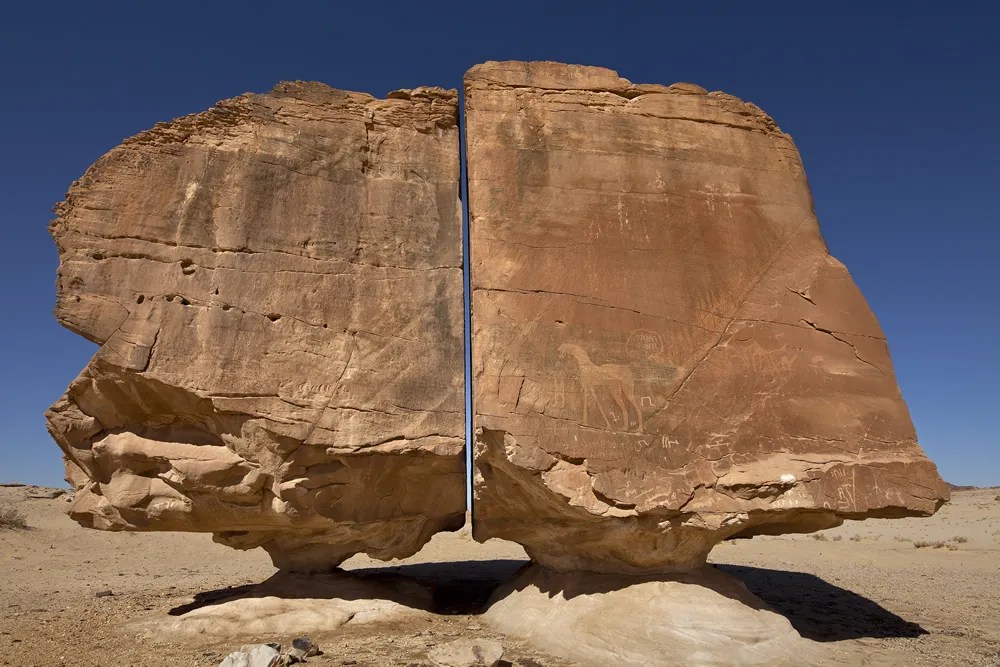 While the rock shows signs of weathering and erosion, the petroglyphs or rock carvings on it are up to 4000 years old, making it an important archaeological object.
The perfect vertical split in the middle of the rock is a huge source of interest for geologists. Researchers have been unable to find the exact explanation for the central fissure but other, similar rocks provide relevant clues.
Let's take a look at the "Balanced Rock" in the USA.
The iconic boulder at the top is balanced by a thin pedestal of rock, seemingly defying gravity. In truth, just like Al Naslaa, this rock is likely to collapse in the future.
Unstable equilibriums in rock formations are created through erosion by wind, sand, rain, and other sources of water. These erode different layers of rock at different rates, and can even cause horizontal and vertical fissures across the rock.
Another rock with such features is Egypt's "White Desert":
This rock has taken on a mushroom-like structure, with its upper boulder resting atop a thin layer of rock.
"Al Farafrah" shows similar features: its upper boulder rests atop a thin, weathered spire of rock.
A more exact match, however, perhaps is New Zealand's "Split Apple Rock". Aptly named, this rock resembles two perfectly-split slices of apple.
The fissure in "Split Apple Rock" has been explained through a naturally occurring joint. Joints are natural planes of weakness in granite structures. Since the joints are already vulnerable, water-based weathering can easily cleave the formation apart, sometimes with admirable precision.
On the other hand, the backside of Al Naslaa shows a parallel crack next to the main fissure.
This crack provides a potential clue about the origin of the fissure. In fact, there are many horizontal cracks on both boulders that don't align with each other, suggesting that erosion happened after the fissure, which could then have been a result of faulting.
Earthquakes and faultlines are also known to create fissures in rocks.
The mysterious rock formation remains a great source of interest for tourists, geologists, and archeologists alive. It has also been subject to conspiracies in the past.
While it's a spectacular site, geologists predict that the rock formation will collapse soon due to its unstable equilibrium.