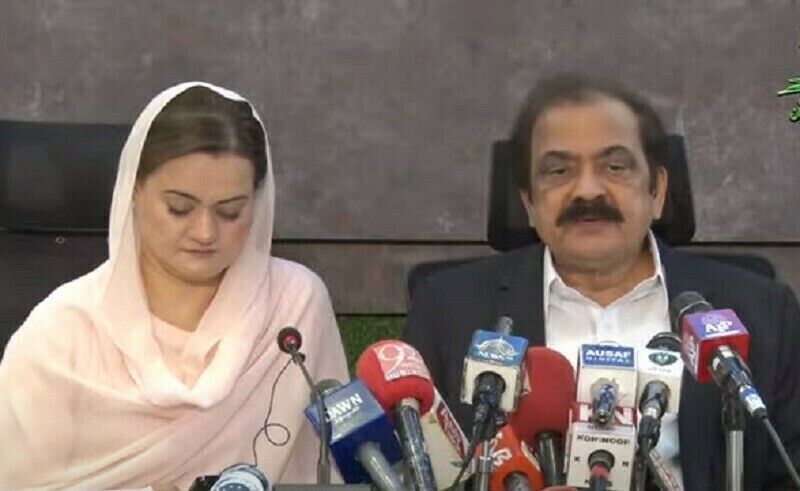 Interior Minister Rana Sanaullah warned the PTI leadership of strict action if they try to enter the Red Zone as the party announced to stage a protest outside the Election Commission of Pakistan (ECP) on Thursday.
"PTI can stage its protest at H-9 area or F-9 park, instead of the Red Zone area," Sanaullah said while addressing a press conference along with the Minister for Information and Broadcasting Marriyum Aurangzeb in Islamabad.
The minister said that PTI wanted to spread chaos in the name of protest. "Anybody who tries to take the law in their hands will be dealt with strictly," he added.
"Every political party has the right to hold a protest in a peaceful manner," Sanaullah said and assured that the government would facilitate and provide full security to the PTI workers if they held their protest at the designated places.
The interior minister claimed that the government had reports of a possible attack on the ECP by the PTI workers, who had the intention to hold a violent protest in the Red Zone.
"They [PTI] can attack the election commission, however, they should remember that the Islamabad High Court has imposed restrictions on staging protests in the Red Zone."
He said that after the ECP's decision, PTI had been proven to be an 'imported' party.
"Imran Khan has been proved to be an agent of foreign powers."
The interior minister said that the PTI chief had introduced the culture of intolerance and abuse in politics.
He went on to say that the coalition government would take important decisions in the cabinet meeting tomorrow (Thursday).