Another low-pressure monsoon spell may hit Sindh from August 17 or 18th, says chief meteorologist Sardar Sarfraz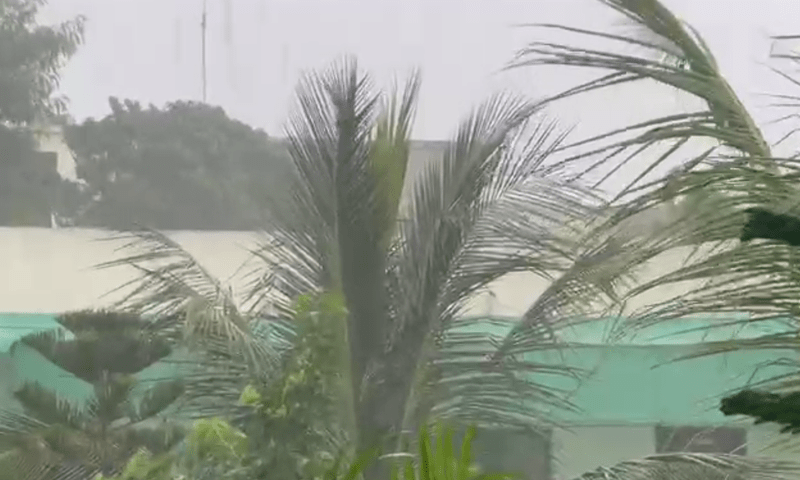 Rain was reported in different areas of Karachi as the fresh monsoon spell kicked in the city, which has been appearing hotter than usual over the past few days due to the rise in humidity levels.
"There may be heavy rain in the city tonight (Wednesday)," Sardar Sarfraz, chief meteorologist in Karachi, told Aaj News. "The monsoon system is present near Central India, Gujarat. The intensity of low pressure monsoon is still maintained."
Showers were reported in Korangi, Malir, Quaidabad, Gadap Town, Shah Faisal Colony, Superhighway, Garden, Golimar, and Model Colony.
The Pakistan Met Office had said that monsoon currents have been continuously penetrating the atmosphere and were likely to become stronger from today (Wednesday).
The intensity of rain was likely to be high on August 12 and 13, he said, adding that rain was expected to continue till August 14. "From 100mm to 150mm of rain is expected in Karachi in this spell."
He was of the view that the rain might continue till August 16 or 17 in Balochistan, which reported almost of the overall flash floods deaths in the last spell.
"The trough line [a line along which pressures are lower than in the surroundings and where the cyclonic curvature of the isobars is a maximum] from the South of Arabian Sea to the Bay of Bengal near Karachi," Sarfraz said.
Another low pressure monsoon spell may hit Sindh from August 17 or 18th after a gap of few days, he predicted, adding that the second monsoon system may result in three to four days of showers.
Wettest July since 1961
National rainfall for the month of July 2022 was largely (more than 181%) above average and stood as the record wettest July since 1961, the Pakistan Meteorological Department said in its monthly climate summary for July.
"Recent rains in Pakistan were 180% heavier than the average downpour," Zaheeruddin Baber, the Met Office director, told Aaj News last month while quoting data recorded by July 25 (Monday).
The July monthly rainfall alone exceeded the total normal monsoon seasonal rainfall by 26%, the report said, adding that it was excessively above average over Balochistan (more than 450%) and Sindh (more than 308%), both rank as the wettest ever during past 62 years.
"Monthly rainfall was largely above average over Punjab (more than 116%) which stood second as the wettest month, above average over GB (more than 32%) & KP (more than 30%) and nearly average over AJK (less than seven per cent)."