Founder Nawab Shaji Ul Mulk says efforts under way to further improve league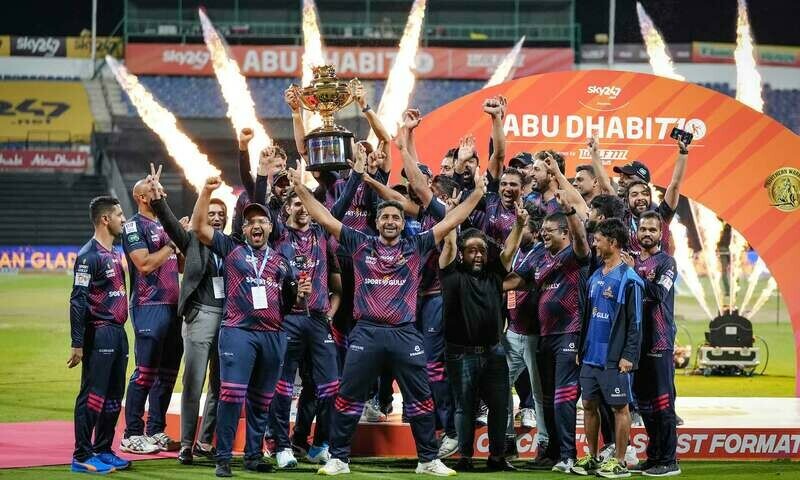 ABU DHABI: The fastest format of the cricket league tournament would start on November 23 and finish on December 4 at the Sheikh Zayed Stadium in Abu Dhabi, UAE, with Deccan Gladiators defending its title against the five other teams.
"We are further consolidating Abu Dhabi as a major global sports hub," Aref Al Awani, the general secretary for Abu Dhabi Sports Council, said in a statement. "And, we are ensuring the best facilities for creating and hosting one of cricket's most entertaining competitions."
The 10 league, which is based on a 10-over format of the game, comprises six teams and they play 10 matches each. The top four sides in the points table reach the playoffs and finals of the event.
Players from around the world, including Pakistan, have been part of the tournament.
The development of sports and the organisation of sports events were a testament to the success of a "major strategic goal" of the Abu Dhabi government, he said, adding that the best sports events are being held in the UAE which is of "special importance" in promoting world-class sports.
"When we first brought the league to Abu Dhabi, our goal was to make it one of the highlights of the international cricket calendar, and in collaboration with national cricket authorities, the Abu Dhabi Department of Culture and the Emirates Cricket Board, we achieved this," Nawab Shaji Ul Mulk, the founder and chairman of T10 league said.
Deccan Gladiators, the defending champions, would be aiming at another trophy this year. Gladiators had won the season five final by 17 runs against Delhi Bulls in the final at the Sheikh Zayed Stadium in Abu Dhabi.
Mulk, who is a member of the Emirates Cricket Board, said that the Abu Dhabi T10 league was prominent in the world game, and each edition was improving. Owners of franchises, broadcasters, and sponsors were working to further develop the league in order to boost the shortest format of the game, he said.
T10 teams
Bangla Tigers
Deccan Gladiators
Delhi Bulls
Northern Warriors
Team Abu Dhabi
The Chennai Braves
Despite the slog nature of the game, the tournament got prominence in 2021 after former South African cricketer Faf du Plessis said that the format could be played in the Olympics.
"I have played three formats for a long time and I am still attracted to the T10 format. I think players like myself will keep looking at tournaments like this. The future of T10 is looking good. It's a format that can be used in the Olympics," he had said.